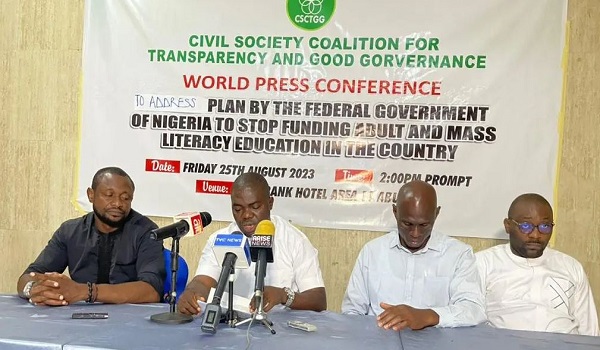 Civil Society Coalition for Transparency and Good Governance has urged President Bola Tinubu not to withdraw budgetary allocation from National Commission for Mass Literacy, Adult and Non-Formal Education (NMEC)
The Convener, Mr Victor Udo who made the call at the news conference in Abuja on Friday, said that NMEC has a mandate of eliminating illiteracy in the country.
He recalled that the Federal Government in July, 2023, announced its approval for the discontinuation of budgetary allocations to professional bodies and councils effective 2024.
He said that the government stated that the affected institutions would be regarded as self-funding and become fully responsible for their personnel, overhead and capital expenditures.
Udo said that as civil societies, they consider the initiative commendable but the inclusion of NMEC in that category is a mistake that should be revered.
He said that with the current number of out of school children in the country, no fewer than 62million Nigerians will be natively affected by the policy.
According to him, NMEC mandate of eliminating illiteracy in our country has to be achieved and when the opportunity to get education is missed as a child, the only option left is adult education.
The convener said that government should be seen promoting education and increasing funding for agencies like NMEC and not removing them from budgetary allocation.
"We hereby call on President Bola Tinubu to a matter of urgency and national importance to reverse the decision.
"We urged the President to direct the appropriate authorities like the Director General of the Budget Office, the Accountant General of the Federation, the Presidential Committee on Salaries, and other related agencies to sustain the continuation of the budgetary allocation to the National Commission for Mass Literacy, Adult and Non-Formal Education (NMEC)," he said.
Udo urged the Federal Government to consider improving the budgetary allocation to the said commission for effective service delivery to the nation.
He explained that NMEC employs the services of rural facilitators, primary school teachers on ad hoc basis, to teach literacy skills to learners in over 40,000 learning centres across the 36 states of the federation and the Federal Capital Territory, Abuja.
According to him, the learners do not pay fees, in fact, NMEC provides them with the various materials in collaboration with State Agencies for Mass Education (SAMEs).